KIOGA 2023 Annual Convention & Expo – Welcome Aboard the KIOGA Cruise Ship! Join us as we Chart a Course for Energy!!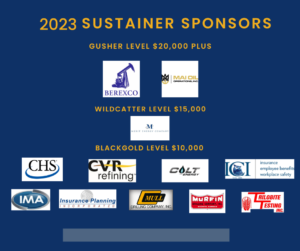 Mark your calendars for the 2023 Annual Convention & Expo in Wichita, Kansas August 20-22 at The Hyatt Regency/Century II Performing Arts & Convention Center
Only 13 booth spaces left!  Register today!
KIOGA Annual Expo- Register below to secure your booth! (An updated map will be posted weekly.  Call or email for current availability.)
Hotel reservations can be made by calling:
The Hyatt Regency at 316-293-1234 – Room rate of $131 (includes free parking in the Parking Garage)
 The Drury Hotel at 800-325-0720- use group #10035409 – Room rate of $129 (includes complimentary happy hour each evening)
or click on the links below to register online.
Keep checking back for regular updates to the Schedule of Events
If you have questions about registering for the convention, sponsorship opportunities, or securing a booth for the Trade Show, please email or call Holly McGinnis at 785-232-7772 or [email protected]
Sunday, August 20th
2:00-4:00 Board & General Membership Meeting- Cypress Room A,B
4:00-7:00 Trade Show- the Expo Hall
4:00-7:00 Preview Silent Auction items- the Expo Hall
7:00-9:30 Chairman's Reception- Convention Hall
Monday, August 21st
7:00 am-5:00 pm Registration- Connecting Lobby
8:00-9:30 Breakfast Buffet- Expo Hall
8:00 am-4:00 pm Trade Show- Expo Hall
8:00 am- 4:00 pm Silent Auction- Expo Hall
9:30-2:00 Spouse Auxiliary Event- Off site
Shuttle will leave The Hyatt at 9:30 and proceed to Botanica Wichita for a tour of the botanical gardens followed by a honey and food pairing.  Then off to The Tea House for a tour followed by a tea and food pairing.  Lunch will follow at The Tea House.  Shuttle will return to The Hyatt after lunch.
10:00-11:00 Seminars (TBD)
11:00-12:30 Adam's Oasis- in honor of our Event Chair, Adam Petz!- Expo Hall
12:30-2:00 Annual Membership Luncheon- Convention Hall
3:00-4:00 Seminars (TBD)
5:00-7:00 Kansas Strong Cocktail Reception- Connecting Lobby
7:00-9:30 Sail away on the KIOGA Cruise Ship as we Chart a Course for Energy!  Join us as we enjoy food and fun from different Ports of Call!  Come dressed in your favorite Cruise Wear and make sure you practice up so you're ready for a game of Shuffle Board!  We'll have an Arcade, Casino, and great music!
Bon Voyage!!
Tuesday, August 22nd
7:30 AM Annual Golf Tournament – Tee off at 8:30
(Crestview Country Club)
8:00 AM Sporting Clays Tournament
(Shady Creek Sporting Clays)
11:00-1:30 Bingo Bash
(The River Room at The Hyatt)