KIOGA 2023 Annual Convention & Expo – Welcome Aboard the KIOGA Cruise Ship! Join us as we Chart a Course for Energy!!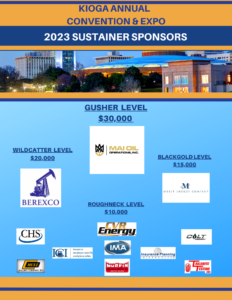 Mark your calendars for the 2023 Annual Convention & Expo in Wichita, Kansas August 20-22 at The Hyatt Regency/Century II Performing Arts & Convention Center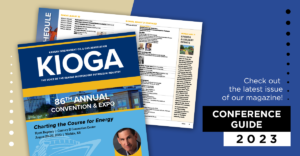 Sunday, August 20th
1:00-7:00 Registration – Connecting Lobby
2:00-4:00 Board & General Membership Meeting- Cypress Room A,B
4:00-7:00 Trade Show- the Expo Hall
4:00-7:00 Preview Silent Auction items- the Expo Hall
7:00-9:30 Chairman's Reception- Convention Hall
Monday, August 21st
7:00 am-5:00 pm Registration- Connecting Lobby
8:00-9:30 Breakfast Buffet- Expo Hall
8:00 am-4:00 pm Trade Show- Expo Hall
8:00 am- 4:00 pm Silent Auction- Expo Hall
9:30-2:00 Spouse Auxiliary Event- Off-site
New this year!  For those who don't plan on attending the morning Seminars or the lunch with the Keynote Speaker, you'll want to make it a point to join us.  This will be a fun outing from 9:30-2:00, Monday, Aug 21 with a tour of the Botanical Gardens, food & honey tastings as well as a visit the The Tea House with more food & tea pairings with lunch to follow.   Please check the box if you plan to attend.  We will need a head count for the shuttle and tours.(Everyone is welcome to sign up for this.  You do not have to be a spouse.) Shuttle will leave The Hyatt at 9:30 and will return to The Hyatt after lunch.
10:00-11:00 Seminars
Energy Policy Challenges- A View from Capitol Hill-Congressional Panel- Redbud B,C
 Energy, Water, Hazards, Defense, & Materials: New Perspectives on Research & Service Work at the Kansas Geological Survey- Dr. Jay Kalbas, Director of the Kansas Geological Survey – Cypress A,B
11:00-12:30 Adam's Oasis- in honor of our Event Chair, Adam Petz!- Expo Hall
12:30-2:00 Annual Membership Luncheon with Keynote Speaker, Steve Goreham- Convention Hall
3:00-4:00 Seminars
KS Corporation Commission-Current Conservation Issues & Prospective Challenges (Panel)- Redbud B,C
ESG for Low Volume Wells- David Stewart, CSO & VP of Environmental Solutions for Greenfield Environmental Solutions Group- Cypress A,B
5:00-7:00 Kansas Strong Cocktail Reception- Connecting Lobby
7:00-9:30 Sail away on the KIOGA Cruise Ship as we Chart a Course for Energy!  Join us as we enjoy food and fun from different Ports of Call!  Come dressed in your favorite Cruise Wear and make sure you practice up so you're ready for a game of Shuffle Board!  We'll have an Arcade, Casino, and great music!
Bon Voyage!!
Tuesday, August 22nd
7:00 AM Annual Golf Tournament – 4 Man Scramble-Shotgun start at 8:00
Includes food, drinks, and awards luncheon following the tournament.
(Crestview Country Club)
9:00 AM Pickleball Tournament
Includes fresh fruit, coffee & juice during registration, open bar from 11:00-1:00, lunch buffet from 11:00-11:30, awards at the end of the tournament.
(Chicken N Pickle, 1240 N. Greenwich)
8:00 AM Sporting Clays Tournament
Includes 100 Targets, 4 boxes of shells, lunch & awards at the end of the tournament
(Michael Murphy & Sons)
11:00-1:30 Bingo Bash
Includes prize money as well as food and drink during play.
(The Riverview Room at The Hyatt)